CyberPunk 2077's own Night City Wire delivered more info into CD Projekt Red's anticipated action RPG with a new trailer and developer insights.
A new trailer profiled Night City itself – the setting players would be starting their legends with. While its citizens are procedurally causing trouble, several factions would add a new perspective to the city. More plot details went into players searching for a cyberweapon for multiple factions looking to harness its controlling power over technology.
Despite the variety of footage in the trailer, CD Projekt Red revealed it was only the game's prologue while players would be thrown into Night City with a literal bang. They also meet Keanu Reeves' character Johnny Silverhand, who greets the player with an f-bomb.
As developers outlined the prologue for CyberPunk 2077, more footage showed off a club in Night City, where players would meet their first character with an important favour to ask. This first quest would likely set the game's events off, head-first into an explosive firefight.
According to CD Projekt Red, players would also get opportunities to update themselves as they step up to harder quests. This would allow a variety of upgrades to weaponize parts of your body, including faster aiming, longer enemy draw distances and heavier melee attacks.
Many of these skills were shown with a new quest, which saw players robbing a convenience store for another thug. But it was revealed to be a VR dream, while new support character Judy helped players recreate a crime scene in third person. Like Arkham Origins, the game's own "BrainDance" mechanic lets players move a camera around a scene and rewind/fast-forward to find evidence.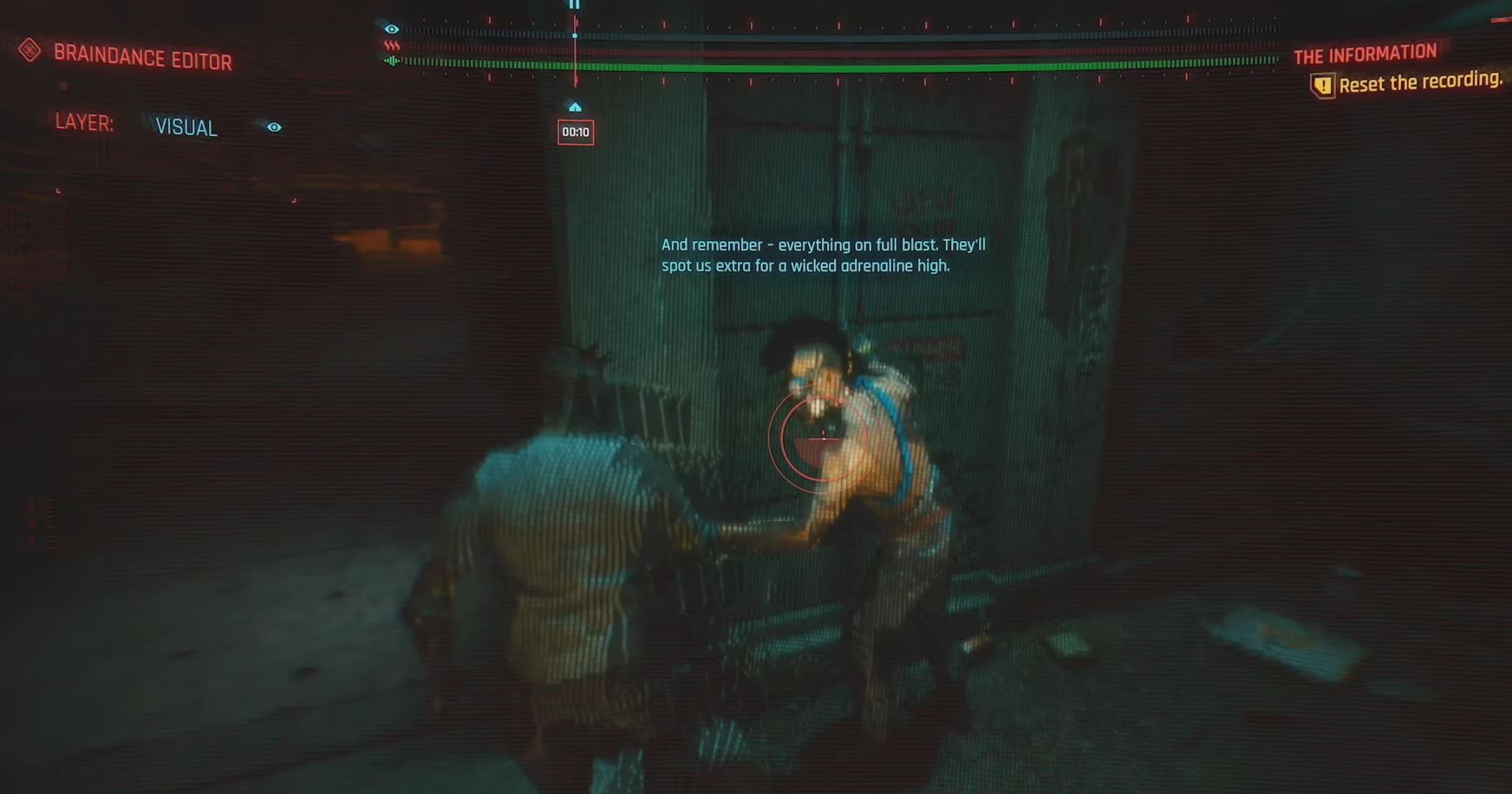 CyberPunk 2077 adds some detective work with Analysis Mode, which lets players scan details on the surface, including blood and weapons for identification. Sound signatures from air vents, NPCs and other environments can also be recorded to determine where a crime took place. But players can also go one layer deeper and hack other security cameras for footage. This also lets you see hidden suspects from other angles before identifying them.
The "BrainDance" feature offers different types of filters to isolate different clues. This lets players single out different objects in a scene and scan specific objects – either on NPCs or behind walls.
CD Projekt Red stated CyberPunk 2077's characters have their own personalities, thanks to a library of dialogue that was used in the game. However, the amount of unused lines helped identify unique motivations and traits from each NPC – something that made each character stand out in The Witcher 3: Wild Hunt.
The studio also announced CyberPunk: Edgerunners, an anime series being produced as a standalone lore with Netflix due to release later in 2022. The project would also recreate parts of Night City with a new cast of characters on their own original stories. Studio Trigger, the anime studio behind Inferno Cop and Project X Zone would be developing the series for web TV.
CyberPunk 2077 is releasing on PC, PS4 and Xbox One on November 19, 2020 with free upgrades to their PS5 and Xbox Series X versions. The game was recently delayed by CD Projekt Red, citing additional time for quality.