The wildly popular online Magic: The Gathering Arena is set to receive a new mode called Alchemy which incorporates card balances in a faster fashion.
Let's face it, card games are ever-evolving to stay alive, and whether it is in the form of new setlists or revealing new combinations, this can be an exciting revelation to ever-growing communities.
Magic: The Gathering Arena, the online version of a premiere card game, has shown its proverbial hand. The developer Wizards of the Coast have detailed a new game mode that should shake up the industry, and the Magic: The Gathering Arena all at once.
The mode is called Alchemy, and while it is based on the Standard format, it will be an evolving game mode that incorporates card balances rather quickly. While this format can keep the standard game mode in line with the current meta of play, it remains to be seen if the physical version of the game received updates also, although it would be difficult to reprint entire Magic: The Gathering sets.
While also providing nerfs to overpowered and overplayed Arena cards such as "Goldspan Dragon" will lose some effects, while underplayed cards will receive buffs. This changes the entire way the game is played at the highest level.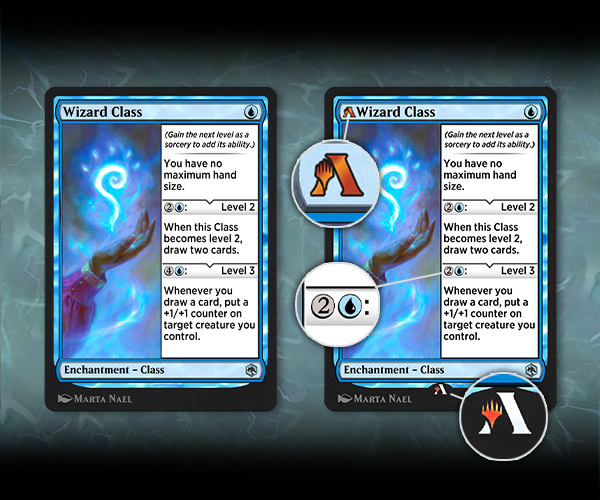 This image details the changes to the "Wizard Class" card while also noting the visible differences between the regular. A small 'A' insignia will be shown to detail which cards have become Alchemized. This is not all that was announced for Magic: The Gathering Arena, 63 new digital cards to coincide with the release have been announced for the game mode, and just by logging in by its release, players can receive 3 Alchemy boosters, 6 rare Alchemy individual card rewards (ICRs), and1 Alchemy mythic rare ICR.
It is also worth mentioning that players of the new mode will not need to obtain cards twice. They will be updated as the format moves forward, so fans can rest assured that their existing collection will not need to be recollected.
Magic: The Gathering Arena's new mode Alchemy launches on December 9, and fans can get more details on previewed cards for this exciting new mode on their gallery page.