GameInformer has provided some hands-on first impressions of Marvel's Spider-Man: Miles Morales, one of the PlayStation 5's most exciting launch titles. According to their report, Insomniac Games has crafted "a true sequel that will likely set the stage for what comes next."
Miles played a significant role in the events of 2018's Marvel's Spider-Man. He befriended Peter Parker after his father's death, and was briefly playable in a stealth segment before being bitten by a genetically modified spider; the two Spider-Men revealed their powers to each other in the epilogue. Now a year has passed and Miles is coming into his own identity as the webslinger with Peter as his mentor.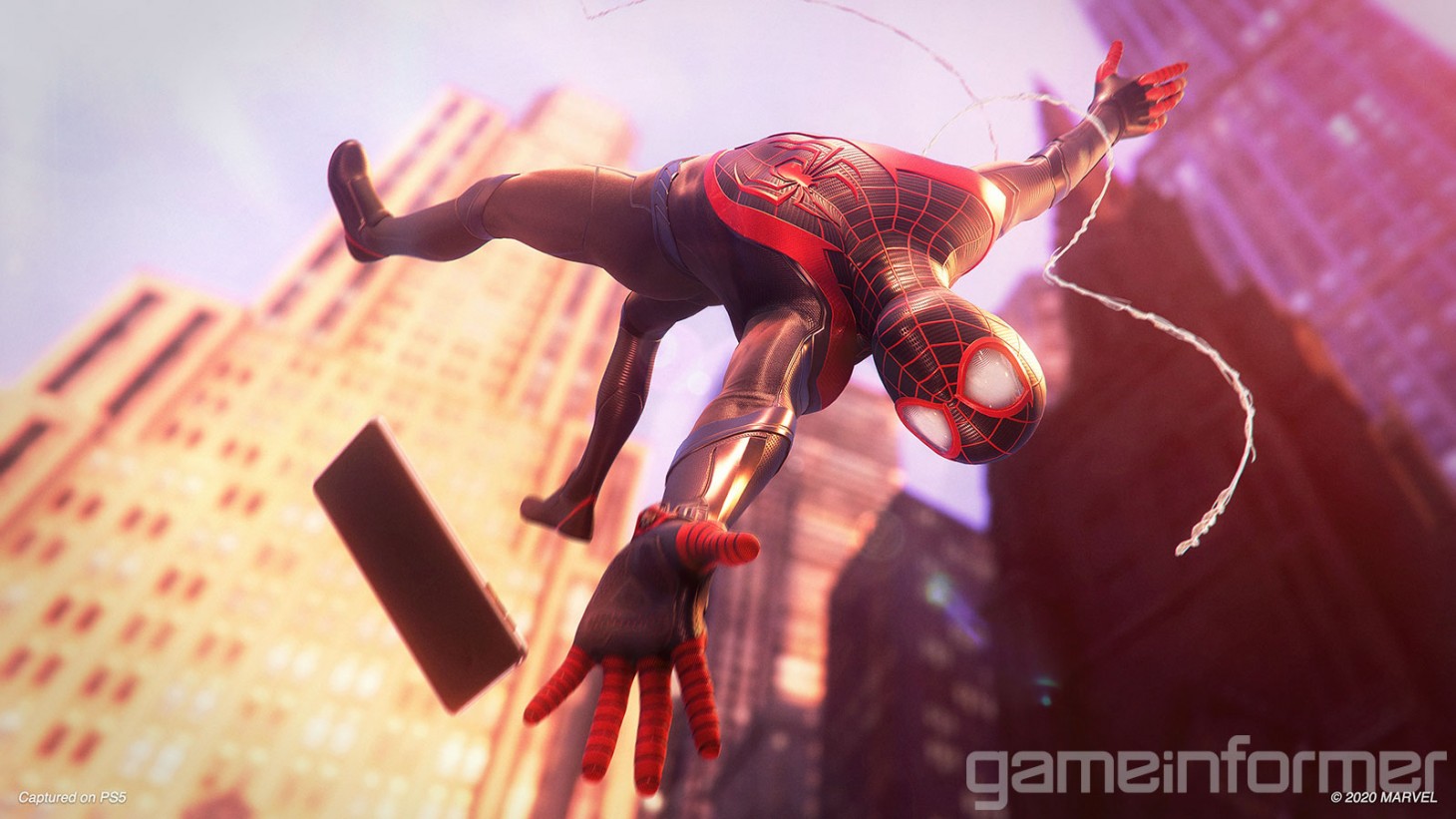 Insomniac has reflected Miles' inexperience in his animations. "We knew he was still learning his abilities and figuring out how he would be Spider-Man," director Cameron Christian told GameInformer. "If you look at his motion, he's a little less sure, a little more gangly." In fiction, Peter has been using his powers to fight crime for many years, while Miles has barely a year to get the hang of it.
Peter will serve as a mentor from the sidelines throughout the game's events, but joins in the game's first boss fight. Mirroring the way Kingpin served as the original game's tutorial, Miles goes toe-to-toe with a returning villain with Peter's help; after apprehending some escaped inmates, Miles switches places with Peter to face the boss.
Miles Morales has his own set of powers and gadgets at his disposal. Most prominent are his Venom powers — not referring to the beloved symbiotic villain, but to the stinging nature of Miles' unique spider powers. These electric attacks will be accessed by holding the L1 button and pressing different face buttons, similar to the Focus system in the first game; L1 + Square, for instance, unleashes a Venom Punch. Enemies hit by these attacks gain a Venom Stun effect, which makes them susceptible to follow-up attacks. GameInformer noted that haptic feedback in the DualSense controller accompanies the Venom charge.
Of course, there are enemies along the way which can resist these specialized attacks. The corrupt Roxxon corporation's thugs "have anti-Miles abilities," says creative director Brian Horton.
Many of the activities from the first game return with revisions, like stopping crimes in progress, finding new collectibles, and solving puzzles, but the minigames from Dr. Octavius' lab are gone (for obvious reasons). Miles will have a "Friendly Neighborhood Spider App" on his phone, developed by his friend Ganke Lee, to track missions, replacing the menu-based map and police scanner from Peter's journey.
Marvel's Spider-Man offered a terrific open-world rendition of New York City, which returns in Miles Morales; however, as Miles now lives in Harlem, that particular neighborhood has been greatly redesigned, fleshing out details and emphasizing its real world culture. Crime rates and collectibles are divided by district once again.
The plethora of suits at Peter's disposal were a big highlight, and Miles should have a comparable wardrobe — although the character does not have the same publication history as the original webslinger, and has fewer iconic looks to draw from. GameInformer saw at least six suits in their time with the game, including a more casual look with a hoodie (reminiscent of what the character wore in 2018's Spider-Man: Into the Spider-Verse); his iconic black-and-red suit; a more pajama-like red-and-blue suit; a LED-heavy outfit dubbed the "2020 Suit," from a recent comic cover; and the preorder bonus T.R.A.C.K Suit, designed by artist Javier Garrón.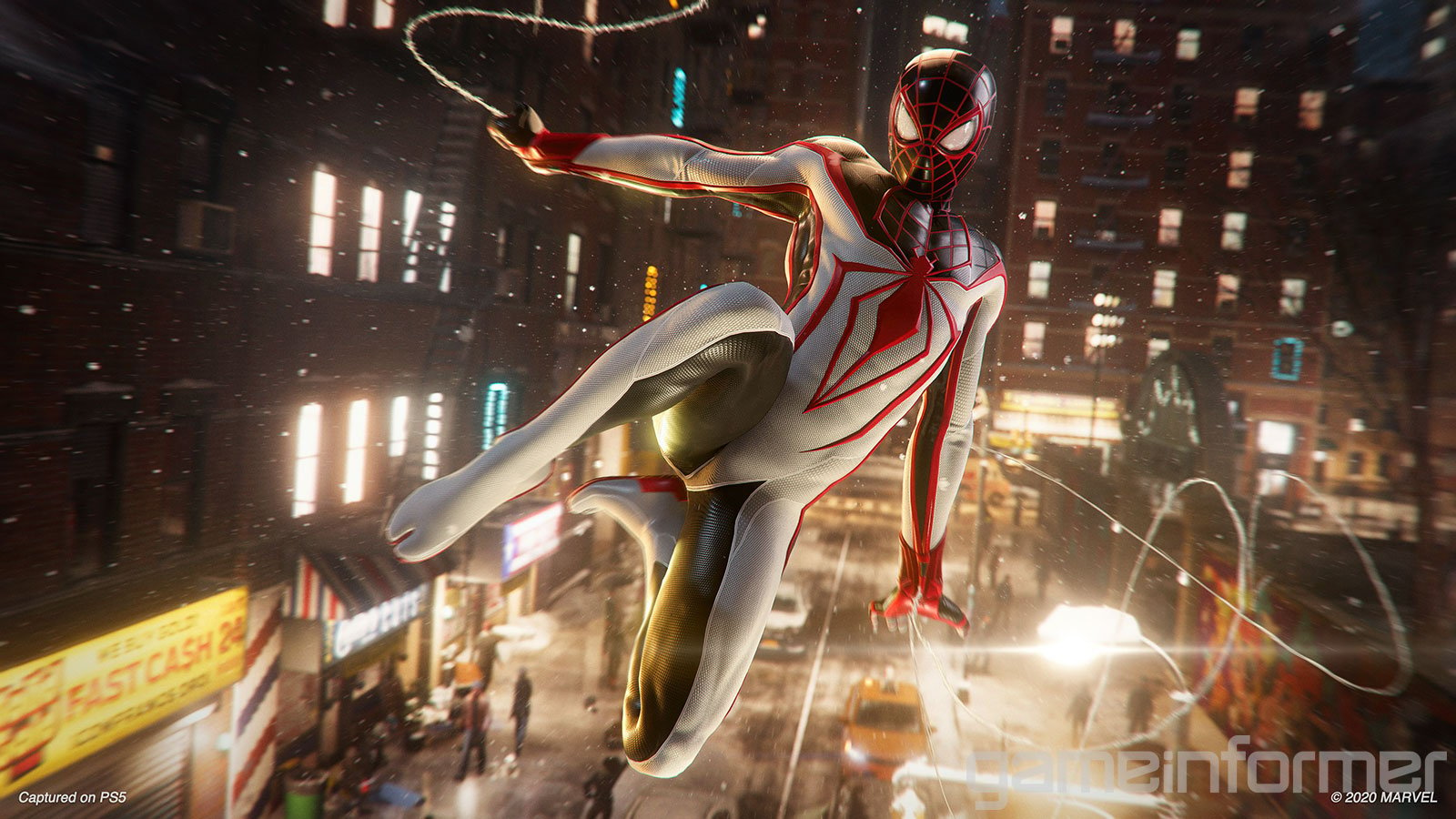 By all indications, Marvel's Spider-Man: Miles Morales is shaping up to be a worthy successor to Insomniac's first outing, adding a fresh spin on the engine for a new character. Players can see for themselves when the game launches alongside the PlayStation 5 on November 12, alongside Marvel's Spider-Man Remastered.