The war between the Light and the Darkness is comes to a head next month in Destiny 2: Beyond Light, the newest expansion to Bungie's live-service FPS. With three weeks until its release, Bungie has provided the most substantial look at its story yet.
The trailer shows us Beyond Light's main antagonist Eramis, of the Kell of Darkness, speaking to her loyal Fallen followers and bestowing Guardian-like power upon them. This is Stasis, the first new element available to players since the series debuted in 2014. Notably, it stems from the Darkness, unlike the Light-based powers longtime players know intimately.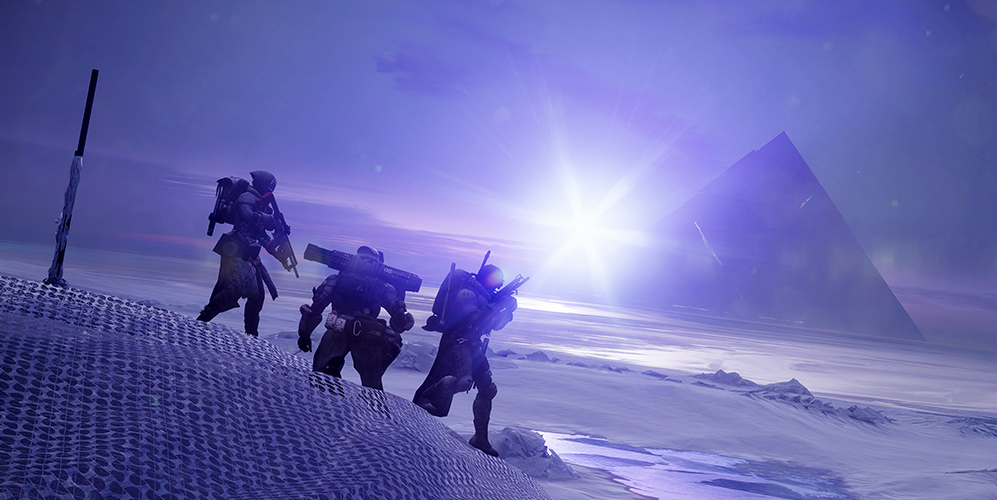 The Pyramids that have been plaguing players through the game's current season play a pivotal role as the source of Eramis' new power. Two familiar faces return in the trailer as well: Variks, the traitor Fallen Kell, and the Exo Stranger, an enigmatic figure who hasn't been seen since the original campaign of Destiny (back when Peter Dinklage voiced the player's Ghost).
Interspersed between Variks' warnings of grave danger and Eramis' promises to enact vengeance upon the Traveller, the trailer also shows off some of new gameplay elements, including Guardians' Stasis powers and new gear. The Darkness powers look big and exciting, and should help diversify gameplay.
Bungie also updated its website with brief bios on important characters. Amongst background on the new foes — including Eramis' Stasis-wielding lieutenants, the House Salvation Elites — some doubt is cast upon familiar friendly NPCs Eris Morn and The Drifter. Could Destiny 2 turn these allies into enemies? Guardians will see for themselves in three weeks when Beyond Light releases on PS4, Xbox One, and PC November 10 (with next-gen upgrades to follow on December 8).