With Stage Two of the Overwatch League season starting this week many teams are looking to continue their momentum built up during Stage One, while others are looking for a brand new beginning. Here's everything you need to know going into Stage Two!
1) Signings Roundup: Atlantic Division
The first ever Overwatch League signing period is underway and has so far delivered a number of intriguing additions. Starting in the Atlantic division, the team that needed a pickup the most was easily the Florida Mayhem. With only six players signed to their roster, Florida lacked flexibility in Stage One and were easy to read and beat as a result.
Since then, they've added a trio of players in Joonas 'Zappis' Alakurtii, Ha 'Sayaplayer' Jung, and Kim 'aWesomeGuy' Sung Hoon. Zappis is a Finnish player who used to play for Team Giganti, who were the European Overwatch Contenders Champions in 2017. It's also interesting to note that the team that Zappis beat in the finals was the Misfits, whose entire roster left in the off-season to form the Florida Mayhem. Sayaplayer and aWesomeGuy, two South Korean players who both played for Meta Athena in the past, will add some much-needed depth to the Mayhem roster. It'll be interesting to see what the new additions bring to the lineup and to the team's signature walk-ups.
On the other side, the top-seeded NYXL and Stage One Semi-Finalists, Houston Outlaws, also added a player to their rosters. NYXL signed South Korean player Tae-seong 'ANAMO' Jeong, who is most well known for playing the support character Lucio for his former team, Mighty AOD. Seeing as NYXL only had two support mains on their roster throughout Stage One, the signing of ANAMO makes sense and with the new meta change, Lucio is very much on the upswing.
As for the Houston Outlaws, they're bringing in American player, Russel 'FCTFCTN' Campbell, a tank player who provides some depth for Houston. What's more is that FCTFCTN is the fourth member of the 2017 USA World Cup team to make the Outlaws roster, joining Jake, Coolmatt, and Rawkus. This move could serve as a very important one for a team that came very close to qualifying for the Stage One finals.
2) Best Match: The Puppy Rumble
Before jumping into the Pacific Division let's talk about the biggest match from last week. The Overwatch League Puppy Rumble, the best and only matchup from this past week. It took place on Monday and featured some adorable pups duking it out in some intense capture the flag action.
While, after two hours, no team actually made a play for the flag, the game was still engaging thanks to valient efforts put forth by all the good boys who participated. That, and the play by play by Montecristo and DOA. I'm not quite sure how they managed to talk about dogs running around in circles for two hours, but they did and it was impressive. Even though no team technically won, all of the dogs who took part in the Puppy Rumble were adopted and are on their way to their new homes.
The full match can be found here.
3) Signings Roundup: Pacific Division
Starting with the Seoul Dynasty, the team added support depth in the form of South Korean player, Heo 'Gambler' Jin-woo. Gambler is a Lucio main, who will give the Dynasty some much-needed roster options going forward. This was a move that the Dynasty needed to make as, although the team started off undefeated in their first five games, they collapsed near the end of Stage One and missed out on the playoffs.
Another team that wants to leave the memories of Stage One behind is the Dallas Fuel, as they went from cup contender to bottom feeder over the course of the first month of Overwatch League. I went over their troubles in detail last week, so I'll skip that this week and get on with their signings. The Fuel added a couple DPS players by signing Dylan 'aKm' Bignet and Kim 'Rascal' Dong-jun and should be a better team in Stage Two as a result. aKm was a member of France's 2017 World Cup team as well as the highly successful Rogue team along with DPS player SoOn and support player Unkoe, who are currently playing for the Los Angeles Valiant.
As for Rascal, his signing hasn't been confirmed as of yet, but sources claim that his transfer is all but assured. He's currently a member of the London Spitfire, the team that won the first Stage of The Overwatch League. However, with twelve players on their roster, Rascal hasn't seen much playing time and only played on one of the maps in the Grand Final.
The LA Gladiators have also picked up a member from the Stage One champion London Spitfire, Chan-hyung 'Fissure' Baek. He plays the tank role and will provide the Gladiators with much-needed depth and could very well challenge for a starting position. Fissure, like Rascal, didn't play consistently for the Spitfire and the change of scenery will no doubt reward him with more playing time and an opportunity to stand out on his own.
The Gladiators were one of the smaller teams in Stage One with only seven players on their roster. They finished Stage One in 8th place with a record of 4 wins and 6 losses. They take on the San Francisco Shock tonight at 11pm PST.
4) Most Improved Team: Shanghai Dragons
Shanghai gets their own category this week because frankly, they were horrific in Stage One and optimism on their end is sorely needed at this point. At 0 wins and 10 losses, the Dragons are the team that most needed to make changes heading out of Stage One and they've certainly done that. With the addition of Kim 'Geguri' Se-yeon, Lee 'Fearless' Eui-seok, Gi-hyeon 'Ado' Chon and He 'Sky' Junjian, Shanghai has shown that they are not afraid to make significant changes to their team if it means getting better.
For all their faults in Stage One, they did become a more cohesive and interesting team to watch in the final few matches. They managed to take a map off of the mighty Seoul Dynasty and play a couple of tight, 3-2 losses against the Dallas Fuel and Philadelphia Fusion. The addition of their new Korean and Chinese players could be a game changer for the team, and, at the very least, they will be one of the most interesting teams to watch going forward.
Also interesting to note is that the Dragons have the bestselling jersey in the Overwatch League thus far, in spite of their in-game performance.
5) Stage Two: Week One Game of The Week: London vs. NYXL
There are a number of interesting games taking place in the first week of Overwatch League's Second Stage. From the re-vamped Dallas Fuel going up against the resurgent Shanghai Dragons to the surprising Boston Uprising looking to gain some revenge on the upstart Houston Outlaws, it's an action-packed first week. That being said, no match has the amount of pedigree that Friday's game between the London Spitfire and the NYXL does.
It's a rematch of the Stage One finals, a match in which the Spitfire came all the way back from a two-map deficit to win the game and the prize money with a score of 3 wins to 2. On London's end, they want to prove that their victory was no fluke and that they are a team to be feared going forward. They can accomplish this goal if their dynamic DPS duo of Ji-hyeok 'Birdring' Kim and Joon-yeong 'Profit' Park can continue to shine and if they play like they did in the second half of the final. On the other side, the NYXL are seeking retribution and a chance to stake their claim as the undisputed best team in the Overwatch League. They hold the best record at 9 wins and 1 loss and now must show that they can shake off their heartbreak and start Stage Two off with a win. They'll stand a much better chance of winning if Do-hyeon 'Pine' Kim can continue making plays like this.
Both teams want to get off to a hot start in Stage Two and we should see their rivalry continue to heat up. As for who's going to win the match, I simply can't bet against Birdring and the freshly minted Stage One champs. London will capture this one 3-2.
6) Stage Two Finals Forecast: Houston Outlaws vs Seoul Dynasty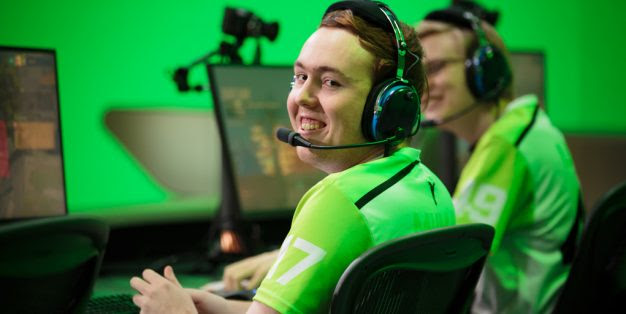 Speaking of finals, it's way too early to make an educated guess on which teams are going to be competing in the Stage Two finals, as there are too many unknown factors that have yet to play out. That being said, I'm going to make one anyway: The Seoul Dynasty are going to play the Houston Outlaws in the Stage Two finals, and one of them is going to win the game.
The Seoul Dynasty went into the Overwatch League confident and a bit arrogant. Their team name 'Dynasty' came as a result of their player's history of winning championships in the APEX League and World Cup play. Going into the season, the buzz around Seoul Dynasty suggested that they would have little trouble capturing some new titles and quickly. That simply didn't happen, as the team collapsed down the stretch and ended up missing the playoffs in disappointing fashion. But now, with the addition of support player Gambler and with their previous arrogance wiped away, The Seoul Dynasty are very much poised to rise up and prove that they are worthy of their name.
On the other side, the Houston Outlaws are perhaps the cockiest team out there right now and are widely regarded as the team that no one wants to play. The Outlaws have shown that when they are hot, no team can compete with them and that they can take on any challenge that comes their way. While they ended up losing to the London Spitfire in the Stage One semi finals, they did manage to beat them in the regular. Add in the addition of FCTFCTN, and this team has what it takes to go all the way.
Which teams do you think are going to make it to the Stage Two Finals? And what are you most looking forward to seeing in Stage Two? Let us know in the comments below!
---
Liked this article and want to read more like it? Check out The Six Pack's Look Back at Overwatch League's First Stage and the article about Overwatch's Lunar New Year Event.
Want to see more videos? Subscribe to our YouTube channel and check out the First 15: Monster Hunter World Beta: the Insatiable Nergigante, Dissidia Final Fantasy NT, Star Wars Battlefront II, Sonic Forces + Episode Shadow, and Super Mario Odyssey!
Don't forget to tune in every Friday the Pixels & Ink Podcast to hear the latest news, previews, and in-depth game discussions!
Never miss when new CGM articles go out by following us on Twitter and Facebook!
CGMagazine is Canada's premiere comics and gaming magazine. Subscribe today to get the best of CGM delivered right to your door! Never miss when a new issue goes live by subscribing to our newsletter! Signing up gives you exclusive entry into our contest pool. Sign up once, you'll have a chance to win! Sign up today!