Riot Games' next online game League of Legends Wild Rift was featured with gameplay details in the latest Summer Game Fest stream, with an alpha test going live for mobile players next week. The game surprisingly keeps the look and feel of its PC counterpart while addressing fan requests for a portable version of Lol. Wild Rift was also built from the ground-up with assets re-created from the main game while optimizing smooth performance on iOS and Android phones.
Champions players have connected with in the PC versions are making their way into smaller screens while Wild Rift adds simplified controls for a traditional top-down action experience. Its sizzle also revealed champions such as Nasus, Ashe, Hasagi and Garen returning with their own abilities. In true League fashion, players will still be fighting under a PvE mechanic with an online-competitive integration.
In an interview with Geoff Keighley, design director Brian Feeney said the smaller mobile format also lets players experience League of Legends in shorter phases during breaks and commutes.
"Mobile in particular is a phenominal platform for social play," he said. "There's nothing quite like having a LAN party in your pocket and just sitting down at a table over dinner and playing with three to four different friends."
While its console version is still in the works, Feeney mentioned the mobile version has been designed for both touch and controller peripherals. On launch, it's still unknown whether or not the option would be ready for players looking to use accessories. Other optimizations included tight dual-stick control schemes and more shortcuts to help along League of Legends Wilf Rift's smaller but faster-paced form factor.
Summoner spells are getting an intuitive touch experience, letting players assign their champion abilities quicker before entering a match. The mobile controls also add shortcuts for summoning magic and perks faster while it's important for activating the titular Wild Rift. The mechanic flips the map for both competing players while enemies would spawn parallel on both sides. The rift itself will also feature different colored golems, and dragons to encounter as parties make their way through the map.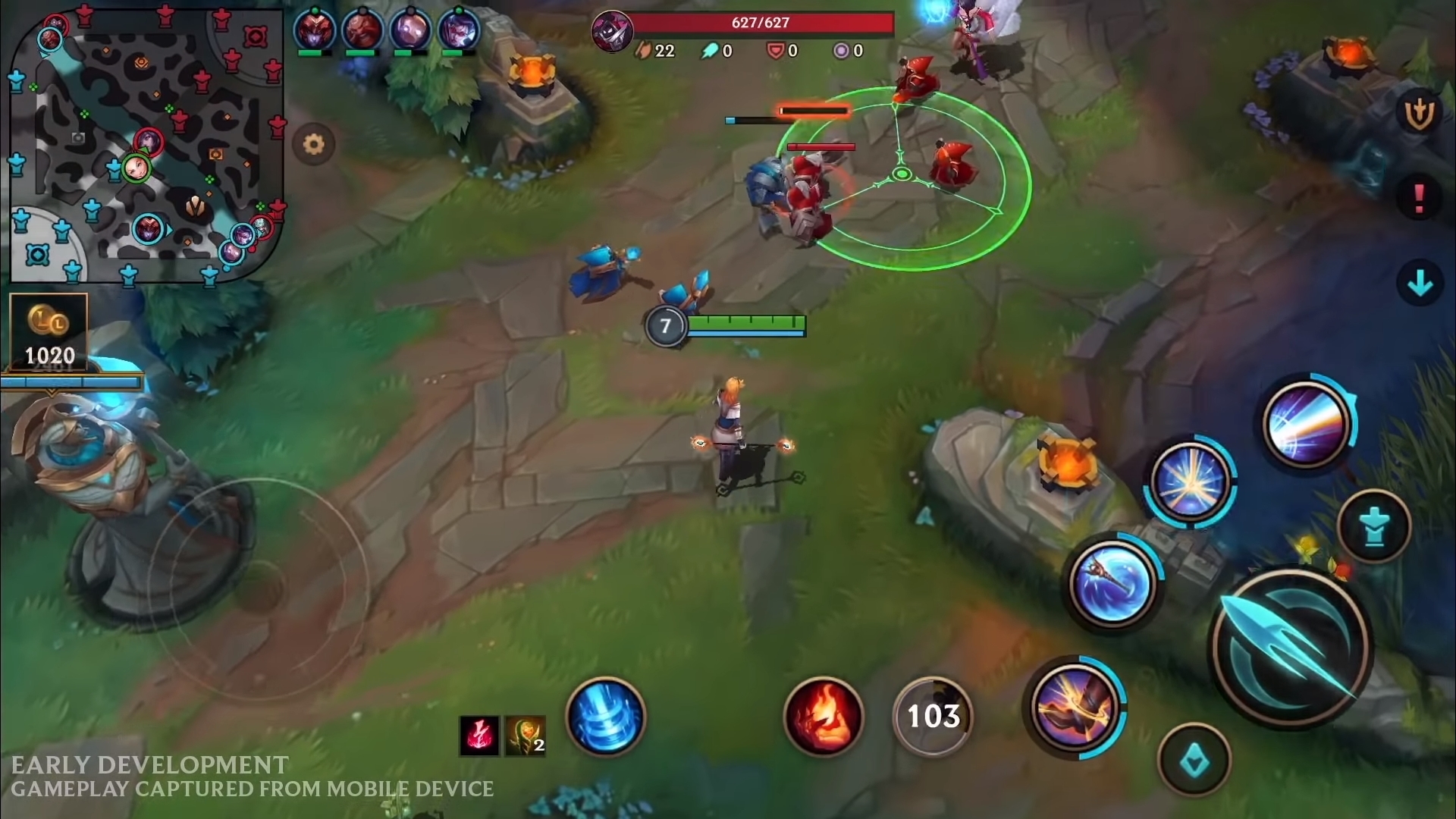 Tiers are also doubled-down for gear, with specific types working best for some champions for maximum damage, crowd control and defense. Under an online 5v5 match, players can also use their strengths to their advantage and creatively mix attacks against enemies according to the extra power. The extra loot and cosmetics are also optional without an overwhelming amount of ads and pop-ups. Its trailer also featured a few new skins for champions players can purchase on mobile and keeps the free-to-play experience intact.
"We are keeping the (League of Legends) experience pretty close to PC," said David Xu (Papa Smoothie), product manager for Wild Rift. "Our philosophy remains simple. We want to retain the feel of your favourite champions so they are authentic to what you know from League and we only look for changes where it makes sense."
Alpha players can access 36 of the 140 characters from League of Legends as Wild Rift makes its way on iOS and Android devices. The game is currently available to pre-register on Google Play supported phones while its iOS version is coming soon.