Bethesda closed out its E3 press conference with an extensive demo of Fallout 76, revealing that the mysterious title is an online open-world RPG set in West Virginia. The game will be out on November 14, 2018.
In Fallout 76, players can explore the open world with friends or solo, completing quests, building encampments, and fighting both post-apocalyptic monsters and other players. The game is set 12 years before any other Fallout game and will feature the largest open world yet built by Bethesda, four times as big as Fallout 4.
Based on the gameplay shown at the press conference, Fallout 76 looks like it will function much like other popular online survival games like Rust and ARK: Survival. In Fallout 76, players will be able to build forts using the C.A.M.P. system (Construction and Assembly Mobile Platform), making a home base to protect them from A.I. enemies and other players. These encampments—which very much resemble the polarizing settlement system of Fallout 4—can be besieged either by direct combative force or by an actual nuclear attack, as there are several nuclear missile bases available for players to find, reconstruct, and use to drop the big one on targeted map locations.
So, like ARK: Survival and Rust, but with nukes.
While Bethesda Game Studio's Todd Howard was intent on assuring fans that Fallout 76 could be played without ever teaming up with other players, much of the demo shows three or four players banding together and exploring the wasteland, donning customizable Power Armour suits, looting convenience stores and other pre-war structural relics, and fighting teams of other human players. There are towns to pillage, lush natural environments to explore, and a vast array of mutant enemies to hunt down.
From what we saw in the footage Bethesda showed, Fallout 76 will have a good number of new enemy types, including a giant mutant sloth, hostile robot drones, and a very Skyrim-dragon-like flying gargoyle called a Scorchbeast. Players on screen gunned these monsters down with miniguns, colonial single-shot pistols, and home-constructed pipe rifles.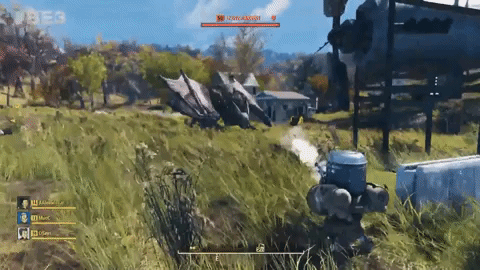 For all that was shown of Fallout 76, much was noticeably absent from this demonstration of the next Fallout series entry. Most especially, the iconic V.A.T.S. system (which allowed players to either freeze or slow down time and target specific enemies' body parts to attack) was nowhere to be seen, and considering the nature of online multiplayer games, it is very possible this combat system—a hallmark of the franchise from day one—will not appear in the game. Also missing were any shots of skills, perks, or levelling systems, though experience points can be seen popping up in some of the combat scenes.
Bethesda also announced a beta for Fallout 76, though no date or window was given.
A Fallout 76 collector's edition was also unveiled, featuring a Fallout 76 world map "that glows in the f***ing dark," plastic figurines to use with the map, and a wearable Power Armour helmet with an operational headlamp and voice modulator.
Fallout 76 is set to launch on November 14, 2018 on PC, Xbox One, and PlayStation 4.
---